Tuflok
The Tuflok Blue Nylon patch when applied is permanently fused onto the screw thread of the parent component, and increases the prevailing removal torque, allowing the screw to be locked in any position upon assembly. Tuflok 180 is a blue nylon patch permanently fused to the screw thread. This process provides excellent vibration resistance and torque performance for all applications requiring controlled loading and re-usability. Tuflok is effective, whether or not the fastener is fully seated, making it ideal for applications where continual adjustment is required.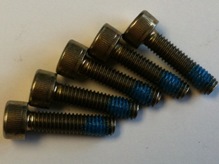 Tuflok
Wirelocking
Wire locking is a very low cost and entirely effective method locking nuts, capscrews or hex headed screws and bolts screwed into surfaces. It is mainly used when a number of screws have to be locked. Holes are predrilled in the items being locked and when all of the items have been fully tightened the wire is threaded through the holes and the ends are twisted to prevent loosening.. The routing of the wire is such that it prevents the screws from unscrewing. The wire is selected as non-corrodible ductile steel or brass wire of suitable small gauge is used for this purpose.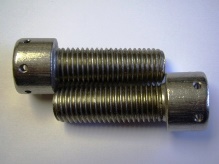 Wirelock
Wedgelock
Pellet type self locking threaded fasteners obtain locking action from a permanently embedded engineered plastic pellet compressed into a hole drilled in the threaded region of the fastener, to a depth slightly below the root of the thread. Pellet size and location are standard but can be altered to meet special requirements. The locking action, partly produced by friction developed between the pellet and the mating thread, results from the metal to metal thread friction opposite the locking pellet. The pellet acts as a wedge and creates a counter thrust when deformed, while the inherent memory of the pellet strives to regain its original shape, causing positive locking.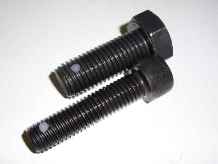 Wedgelock