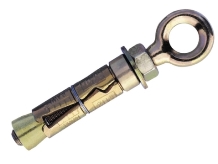 The Eye Bolt Shield Anchor is a three way expansion shield suitable for use in brick and concrete. The thick walls of the expanders give the anchor its exceptional grip and allow it to cater for oversized holes caused by powerful drills in weaker materials such as brick work.

An all steel expanding shield anchor. Carbon steel bright zinc plated & yellow passivated. Suitable for use in concrete, concrete blocks, bricks and some natural stone

The Eye Shield Anchors are suitable for use for static loads only. They cannot be used as lifting points or for use with safety restraint harnesses.


Part Number
Thread Dia.
Drill Hole Dia.
Clearance Hole Dia.
Minimum Hole Depth
Min. Embedment Depth
Rec. Tight Torque
Minimum spacing
Minimum Edge Distance
AEBM06
6mm
12mm
7mm
50mm
40mm
6Nm
1.4kN
140mm
70mm
AEBM08
8mm
14mm
9mm
55mm
50mm
14Nm
2.6kN
150mm
75mm
AEBM10
10mm
16mm
12mm
65mm
60mm
27Nm
4.2kN
180mm
90mm
AEBM12
12mm
20mm
14mm
85mm
80mm
46Nm
6.1kN
230mm
120mm