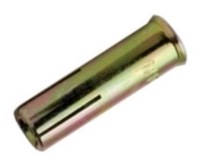 Lipped Drop In Anchor
An internally threaded socket anchor for use with bolts or threaded rod of any length. May be set flush or at a depth. Full expansion can be guaranteed by using the correct shouldered setting punch. Suitable for use in concrete.

Product Information
Deformation controlled anchor available in zinc plated and yellow passivated finish. Suitable for use in non-cracked concrete between C20/25 & C50/60

Features
Internal thread suitable for bolts or threaded studs.
Permanent socket to allow removal and replacement of fixture.


| | | | | | | | | | | |
| --- | --- | --- | --- | --- | --- | --- | --- | --- | --- | --- |
| Part Number | Thread Dia. | Anchor Length | Hole Dia. | Setting Punch | Fixture Clearance Hole | Internal Thread Length | Embedment Depth | Minimum Hole Depth | Minimum Structure Thickness | Maximum Installation Torque |
| DM06SH | 6mm | 25mm | 8mm | DZSP06 | 7mm | 10mm | 25mm | 25mm | 100mm | 4Nm |
| DM08SH | 8mm | 30mm | 10mm | DZSP08 | 9mm | 14mm | 30mm | 30mm | 100mm | 9Nm |
| DM10SH | 10mm | 30mm | 12mm | DZSP10 | 12mm | 15mm | 30mm | 30mm | 100mm | 17Nm |
| DM10SHL | 10mm | 40mm | 12mm | DZSP10 | 12mm | 15mm | 40mm | 40mm | 130mm | 17Nm |
| DM12SH | 12mm | 50mm | 15mm | DZSP12 | 14mm | 20mm | 50mm | 50mm | 140mm | 30Nm |
| DM16SH | 16mm | 65mm | 20mm | DZSP16 | 18mm | 22mm | 65mm | 65mm | 160mm | 75Nm |