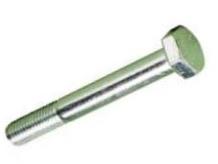 Hex Bolts DIN 931
We supply hex bolts in the following materials,


Steel grades
8.8, 10.9 & 12.9
Stainless Steels
A2 Grades 50, 70 & 80
A4 Grades 50, 70 & 80
Bolts can also be specially manufactured in any material
Dimensions for DIN931 Hex Head Bolt

*Thread lengths listed are a guide value for bolts under 125mm. For bolts longer than 125mm and shorter than 200mm add additional 6mm of thread. For bolts 200mm and longer add 19mm to the thread lengths listed.
| Diameter (d) | Pitch | Length of threaded portion* (b) | Head Depth (k) | Across Flats (s) |
| --- | --- | --- | --- | --- |
| M4 | 0.7mm | 14mm | 2.8mm | 7mm |
| M5 | 0.8mm | 16mm | 3.5mm | 8mm |
| M6 | 1.0mm | 18mm | 4mm | 10mm |
| M7 | 1.0mm | 20mm | 4.8mm | 11mm |
| M8 | 1.25mm | 22mm | 5.3mm | 13mm |
| M10 | 1.5mm | 26mm | 6.4mm | 17mm |
| M12 | 1.75mm | 30mm | 7.5mm | 19mm |
| M14 | 2mm | 14mm | 8.8mm | 22mm |
| M16 | 2mm | 38mm | 10mm | 24mm |
| M18 | 2.5mm | 42mm | 11.5mm | 27mm |
| M20 | 2.5mm | 46mm | 12.5mm | 30mm |
| M22 | 2.5mm | 50mm | 14mm | 32mm |
| M24 | 3.0mm | 54mm | 15mm | 36mm |
| M27 | 3.0mm | 54mm | 15mm | 41mm |
| M30 | 3.5mm | 66mm | 18.7mm | 46mm |
| M33 | 3.5mm | 72mm | 21mm | 50mm |
| M36 | 4mm | 78mm | 22.5mm | 55mm |
| M39 | 4mm | 84mm | 25mm | 60mm |
| M42 | 4.5mm | 90mm | 26mm | 65mm |
| M45 | 4.5mm | 96mm | 28mm | 70mm |
| M48 | 5mm | 102mm | 30mm | 75mm |