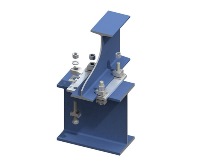 Type GC Girder Clamp

The term Girder Clamp covers more than one design of connection. It is a description that is used for any type of configuration of Lindapter steelwork fixing connections that fasten steel sections together without the need for onsite drilling or welding. Girder Clamps can be used to connect to a UKB, UKC, UKPFC or UKA or any combination of them as well as other types and sizes of structural sections including those with tapered flanges; they can also be used to suit any angular displacement between the sections, however acute, as well as variations in height.

The Girder Clamp is capable of being used in many loading situations including tensile, friction or a combination of the two as well as on horizontal or vertical sections. Capacities range up to 250kN for a four bolt configuration, and with slight modifications to the design, this can be increased.

This flexibility means the Girder Clamp is not an "off the shelf" item, but a bespoke steelwork connection solution, individually designed and manufactured to suit your specific requirements.